2.1. Mutations visualisation plot
2.2. Mutations visualisation plot tracks
2.1. Mutations visualisation plot
The Sequence View result page provides a summary of the PTMs and mutations present in your protein of interest visualised as a needle plot:
Here, the placement of the needles (x-axis) corresponds to the location along the protein's sequence, while the height (y-axis) corresponds to the number of occurrence or frequency of the mutation. Furthermore, the pinhead and x-axis colours represent the mutation impact and type of PTM associated with the mutation location, respectively. The specific colour coding for the mutation pinheads and x-axis colours are explained in the figure legend.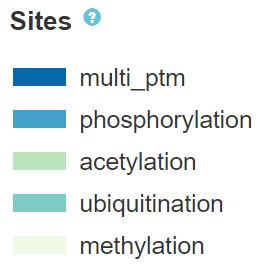 | | |
| --- | --- |
| Mutation Impact | Explanation |
| Direct | mutation affects the post-translationally modified amino acid |
| Proximal | mutation affects an amino acid located 1-2 amino acids away from the PTM site |
| Distal | mutation affects an amino acid located 3-7 amino acids away from the PTM site |
| Rewiring | mutation-induced gains and losses of kinase-bound sequence motifs (predicted by the MIMP software) |
This Mutations Visualisation figure can be saved as an SVG or PDF format by clicking on the "Save image as" button at the top right of the plot.

2.2. Mutations visualisation plot tracks
While the x-axis of the mutations visualisation plot indicates the amino acid sequence location, additional positional details are visualised using tracks below the needle plot.

| | |
| --- | --- |
| Track Name | Content |
| Sequence | amino acid sequence of your protein of interest |
| Disorder | regions of intrinsic protein disorder (lacking any defined conformation under native conditions) |
| Domains | proteins domains identified in the amino acid sequence |
| Mutations | the specific amino acid substitutions detected at the specific site |
If there is a specific region of the amino acid sequence you are interested in, you can zoom onto it using the magnifying glass icons below the Mutations Visualisation plot or type in the position into the search bar.

2.3. Protein summary
The protein summary provides brief information regarding your protein such as: its full name, a brief description of its function, and genomic location of the coding gene.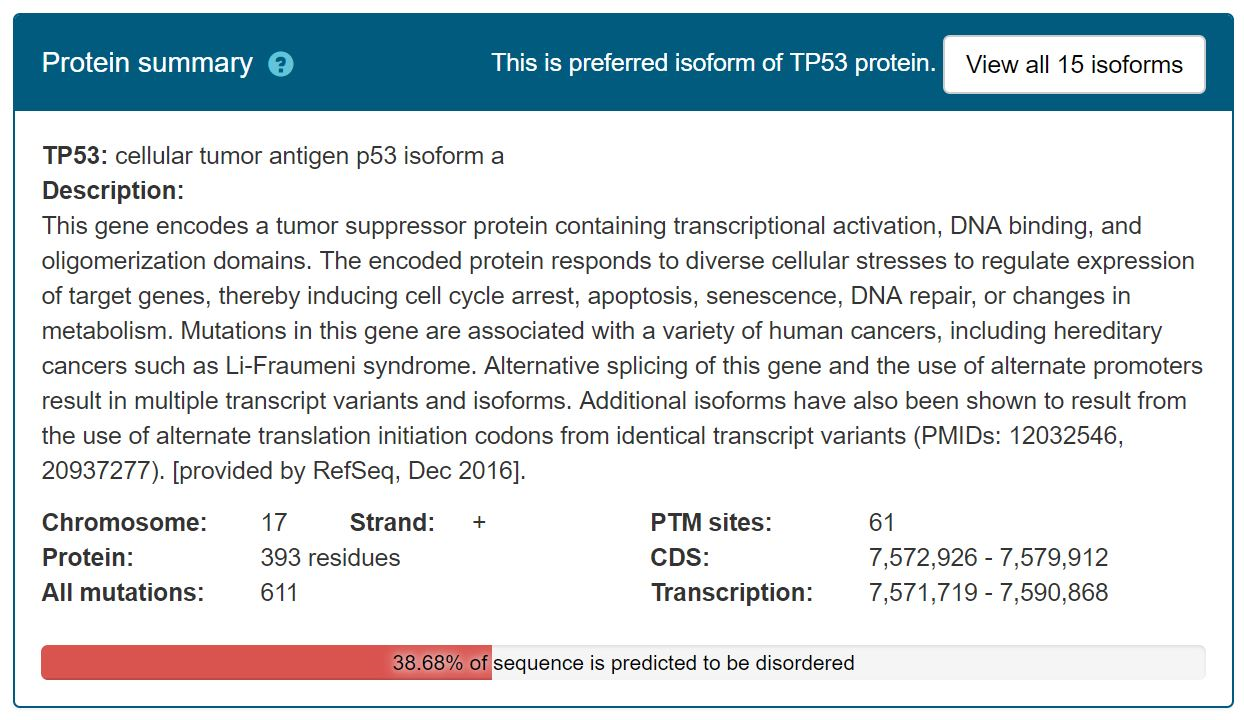 2.4. Mutations summary table
All mutations found in your protein of interest are also summarised in table view on the Sequence View page:

The summary table provides all information visualised in the Mutations Visualisation plot in addition to the kinases which interact with each mutated PTM site. Clicking the mutation in the first column will take you to the mutation summary page which contains additional information about the mutation.